TESTIMONIALS
Wow! I cannot explain how wonderful our first-time home buying experience was thanks to Lauren...

"After interviewing 4 agents, we chose DeDe. WOW! Are we thrilled we did! This was an estate sale after the passing of our father. She helped us through the process and kept us informed every step of the way. Her knowledge of the market and our zip...

"Dede knows Northwest Guilford County, the real estate market, and how to sell homes. She is dedicated, dependable, prompt, reliable, and extremely organized. Her straightforward manner exudes calmness. She handles situations with ease and...

DeDe's team is incredible! We are always glad to connect with her and her clients. DeDe is an advocate for her clients and works hard to find best value for their circumstances. Our home inspection team is proud to work with her!

DeDe Cunningham was a great professional. She is very organized and gives honest feedback and guidance. She started with helping to stage the house and what changes needed to be completed prior to starting to market the home. Her evaluation and...

DeDe did a great job selling our home. She was very professional and thorough. I also appreciated her attention to detail and her quick follow up and follow through. Would highly recommend.

Dede is an excellent realtor and very skilled at her job! She excels in communicating clearly in a timely manner and is very professional. She advocates for her client and made my first land purchasing experience wonderful!

She is professional and realistic.

DeDe and her team surpassed my expectations. I've bought and sold many houses, and this experience with DeDe was by far the most pleasant. Her knowledge and negotiation skills are A+. Highly recommend

A very professional and thorough real estate agent. Worked with us on all aspects of the process. Provided resources to assist in cleaning and other needed jobs. Kept us on target to get the house sold in record time at a price over asking. Highly...

We are so glad that DeDe and her team were highly recommended to us. After a below average experience with another realtor, DeDe's professionalism, timeliness, expertise and tenacity helped us get our home sold quickly and with minimal hiccups. We...

DeDe is extremely expert and knowledgeable.

By far the best agent I have ever used . On point First class !! Knows the market and her line of work and how to market it . Are sale was very complex and she was patient and guided us threw like a proWould recommend to everybody and anybody .

DeDe goes the extra mile for her clients. She makes sure the job gets done.

I couldn't have had a better experience! I used DeDe's Real Estate Group a year ago when I sold my home and loved how thorough, informative, and attentive she and Lauren were.... so, I called them up again when I was ready to buy again. I cannot...

We have been friends for a long time. When I knew it was time to sell I had a very short list of folks who I would like to deal with. Knowing that this house, in this desirable area, in Greensboro would sell was 1/2 my battle. Finding the right...

Dede has helped me sell 3 houses and is getting ready to help me buy my 4th. She is responsive, dedicated, and knowledgeable. All of my out of state family say they wish they "had a Dede" when they are in the market for a home because they know how...

Knowledgeable, provided detailed marketing plans, timely and pertinent communication and marketing analysis as buy and sell changes occurred. Consistent follow through as needed throughout sale process.

Great experience selling our home. DeDe and her team were efficient and thorough. Following her advice, our home sold quickly and for the right price.

DeDe is top notch! She sold our home in 7 days. She is responsive, professional and diligent. DeDe is who you want to sell your home!

If you are looking for someone that knows the business and will be your advocate, DeDe is the one. We were very pleased with our sale and the tenacity she possessed to make sure everything went as smoothly as possible. She was always available to...

"DeDe is a dedicated, tenacious, and hardworking realtor who will always go the extra mile for you. She patiently worked with me for over a month to find my first home. And after the contract was signed, her knowledge and expertise were invaluable...

"DeDe was professional, knowledgeable, prepared, and delivered on everything she promised. Her service and expertise exceeded all my expectations and I have no hesitation in recommending her services."

"Great Realtor to work with. She is very knowledgeable about the market. Highly recommended. My home was under contract in about 25 days in the Madison NC area."

DeDe is great!!!! There were unusual circumstances during the selling process in that my mom permanently moved to Ga because of health concerns. DeDe took complete "ownership" of my mom's house to ensure the best possible value was received. She...

DeDe is incredibly organized and thorough! When we decided to sell our home, DeDe came highly recommended (she had already sold a few homes in our neighborhood this year in record times) and she did not disappoint! She made the process easy and...

SGreathe is very detailed, ensures marketing gets done correctly, steers you to ensure your home is market ready, and knows the right questions to ask upfront. She worked with a great photographer and the photos of our home turned out stunning

DeDe and her team successfully delivered to our very specific relocation plan. Our relocation included many subtle details required when moving a large family with children in three different schools. DeDe's team was able to efficiently execute the...

DeDe was amazing! We had a long distance sale and she took care of everything. Helped us with repairs and getting the house ready. Then got multiple offers. Kept us informed all through the escrow. I cant say enough about what a wonderful job you...

"I am employed by the federal gov't and was required to relocate quite quickly in order to begin work. DeDe and Lauren took on a formidable challenge in accepting me as a client; I was making a single trip and needed to find and be able to make an...

We had two days to find our house after learning that we were moving from TN to the Greensboro area. We got lucky because we connected with this agency. DeDe called us first, and she listened to our story as well as what we wanted in a home. She...

DeDe was highly recommended by a work colleague. My husband and I had decided we were moving permanently to our beach home in 2019 and we decided to sell our Kernersville home. We called DeDe and gave her our timeline for selling and set up an...

Lauren helped us find our dream home in just one day's time. We were on a short time table with our house-hunting trip since we were relocating to the area from Tennessee. She listened to our needs, and helped us quickly find a wonderful house....

"DeDe is a great agent and I highly recommend her! She sold our home quickly and served our needs as sellers by keeping us informed, sharing information daily, coordinating, and providing feedback and suggestions throughout the process. Next home I...

DeDe is TOP NOTCH! She is an asset to her clients by offering her knowledge in construction, she is a woman of dignity, and one of the hardest working women I know! Would definitely recommend to anyone interested in buying, selling, or building. She...

— Leslie Gunter / Gunter Custom Homes

DeDe was incredible this was our first house purchasing experience and DeDe went above and beyond to explain every detail. She answered every question, picked up every phone call, and looked at countless houses to help us find our home. This is a...

DeDe has sold a couple rental houses for me and the the property sold quickly and the closing was the fastest that I have ever experienced. Thanks to her professionalism.

"My partner and I used Dede based on the recommendation of a friend to buy our first home. She was very knowledgeable and patient since we asked a million questions about the home buying process. We also had a very specific list and it took us over...

DeDe was a very good and professional realtor. She met with us the week of Christmas to get things rolling. We had to do this from another state, and things went very well, she kept us informed at every step, and explained everything. We had an...

— Sharon & Andrew Bennett

My experience with DeDe was fantastic and I would recommend her to everyone in a heartbeat. She was always ten steps ahead in the home buying process, incredibly knowledgeable and responsive, and demonstrated professionalism and expertise even in...

DeDe helped us sell our home in Stokesdale. She was so professional, punctual, in control and awesome. We sold it in one day for more than asking price. I have used DeDe with my business to purchase commercial property. Again, she was always...

— Tim & Danielle DeStasio

DeDe and her team were absolutely wonderful and made the sale of our family home as smooth as possible! DeDe is incredibly professional and takes some of the stress out of such a big life event! I highly recommend DeDe for both buying and selling...

— Zeus and Jane Rodriguez

Kathy is a great realtor to work with! We have bought two homes through her and only have positive comments to share. She knew exactly what we wanted and respected our wishes. We always felt like we were on the same page. Definitely a good realtor...

After the initial meeting with DeDe to list my house with her I did exactly what she suggested to get it market ready. DeDe also did her homework and listed at a price that got multiple offers. Would I use her again? Absolutely!!!!

DeDe is an excellent real estate executive. She is very professional, has a great attention to detail and is always accessible. I would highly recommend her and will use her again should I decide to buy in the area.

Dede's Real Estate Group was the perfect choice for us to sell our home. Dede and her team did an excellent preparing us to put our home on the market with good advice and great ideas. They had answers and solutions for every question and concern we...

I have used DeDe Cunningham as my sales agent for two houses. Each house she was very professional and sold my houses quickly. I would recommend her to anyone who is looking for an agent that is very efficient and stays on top of details, and is...

Kathy went above and beyond the call of duty in every aspect to help us. She is very knowledgeable, caring and kind. She kept us updated every step of the way, helped with the inspection and was always very pleasant and professional. Highly...

— Curtis and Michelle Lloyd

Whether one is buying or selling, DeDe is the best realtor choice. We could always depend on an honest opinion and she helped us think through the processes in order to make the best decision for our family. DeDe helped our process run as smoothly...

DeDe offers the level of service that much of the service industries overall are missing.

She is knowledgeable, energetic, organized, and thorough. From staging advice and professional photos of our home, to her attention to detail, communication and follow through, she has it all.

Hands down DeDe is one of the best realtors we have worked with! We highly recommend her to anyone in the market for a realtor. She is a consummate professional who operates with a high level of integrity, who works hard for her clients, and is very...

She is someone you want on your team when it comes to selling or buying real estate.

DeDe is a great realtor. She sold our house the first week on the market. Her advice for staging and the professional photos that she had done really accentuated the best features of our home.

Hard working, true professional who puts her clients first.

We had a lot of bumps in the road but DeDe never gave up and checked in on us every few months to see if we were ready to buy and what she could do to help us. This week we became home owners!

This lady is an excellent marketing person, she is in tune with your requests and needs.

Ms. McNeill knew how to let the buyer feel at ease in doing all the paperwork to acquire the townhouse. She knew the city of High Point, the important locations of supermarkets, banks and hospitals in the area where the townhouse is situated.

Dede was the right agent for us! Our home sold in 1 day with Dede's preperayion & knowledge of current market demands in Summerfield. Making it to closing was a challenge but, Dede was with us all the way.

Mrs. Cunningham was very knowledgeable about the area and the real estate process. Her contractor background was invaluable as she was able to quickly guide us towards the correct professionals to help make our home ready for market.

— Katherine & Jean Baptiste

I contacted DeDe after finding her through a web search. She responded within 5 minutes, and met with us that same day to get us started on selling our home. She is very knowledgeable about the process, knew how to market and promote our property,...

— Forrest & Heather Essic

We found her to be diligent, professional, realistic and ready to offer forthright advice and support.

"We can't thank her enough for her honesty, integrity, knowledge, guidance and kindness through this process. DeDe is a true gem in her profession! We would absolutely use her to sell or buy my house."

DeDe did a great job in finally selling my home. I had it on the market with a different realtor for over a year.

"DeDe sold our home and helped us purchase a lot to build a new home. DeDe is very knowledgeable about the local real estate market and was very professional in how she handled our transactions. We recommend DeDe."

"Lauren was always very quick to return any emails or phone calls. Helped us with every detail through our buying process from finding a lender, finding and viewing homes, setting up appointments for inspections and all in between."

"Lauren is extremely knowledgeable and very good at her job. She loves to make your dreams come true. She makes you feel like you are her only client. I highly, highly recommend Lauren."

"This is our 2nd time working with DeDe and we recommend her to everyone and anyone! I say time and time again "She makes this process less painful!"

Makes you feel like you're her top priority and works to get you what you exactly what you need when buying or selling your home. We've purchased two homes through Dede and she made sure that we had all the information we needed as well as got any...

She is honest, knowledgeable, and professional. She makes you feel like her most important client.

— Stephan and Noelle Dudek

We were very impressed with DeDe's preparation when she met with us the first time to discuss the sale of our home. DeDe is very responsive and has excellent communication skills. DeDe is very easy to work with and has a superb knowledge of the...

— Rodney & Patricia Brown

Great experience. Minimal effort on our part as the seller to get our home sold. Dede takes care of everything for us and does a great job of communicating via calls, text and email.​

We had a great experience thanks to her help- and couldn't be happier in our new home.

We searched for a serious professional and were fortunate to find Dede. She and her organization are top performers in the Oak Ridge area and it was clear to see that success brings more success. They delivered a steady stream of serious showings...

DeDe is highly qualified, experienced and knowledgeable about price trends and available listings. She was always ready to answer our questions and address our concerns. We highly recommend her services both if you are selling or buying.

Dede is by far the best to work with! We were first time home buyers and knew next to nothing of what we were doing or how the process would be. Dede was very patient with us and on our first day meeting with her she provided us step by step...

— Brian & Jennifer Willien

She was a pleasure to work with throughout the entire process. She was extremely knowledgeable.

This entire experience culminated in the identification of the prospective buyer in a time frame below the average DOM for similarly priced properties.

...her knowledge of the area and follow up are unparalleled. Her response time to any questions are extremely fast , regardless of date or time.

Rarely does someone make an impression to motivate me to actually sit down and write a letter about it. DeDe did an outstanding job handling the sale of our house.

— Spencer & Pauline Colquhoun

She's obviously a well seasoned agent and knows how to get the job done!
Blog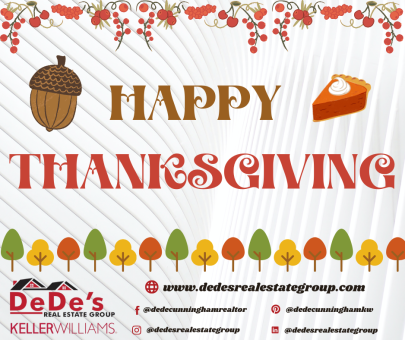 Posted
Happy Thanksgiving!
"Wishing You and Your Family a Wonderful Thanksgiving Filled with Food, Family and Fun" #realtor #Triad #realestate #dedesrealestategoup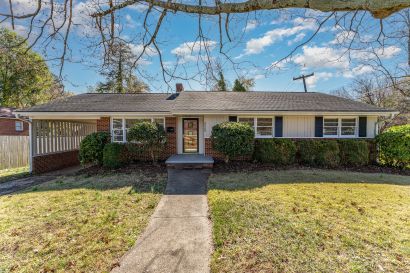 Posted
Just Listed Today!!
🎉Just Listed!!! 🎉Located just minutes from the Tanger Center, Downtown or the PTI Airport, this 3 bedroom and 2 bathroom home is a delight....
Properties marked with the Triad MLS icon are provided courtesy of the Triad MLS, Inc.'s, Internet Data Exchange Database. The information being provided is for consumer's personal, non-commercial use and may not be used for any purpose other than to identify prospective properties consumers may be interested in purchasing. Information deemed reliable but not guaranteed. Copyright 2022 Triad MLS, Inc. of North Carolina. All rights reserved.
Updated: 29th November, 2022 8:11 PM (UTC).